I made a bag for the Pattern Review "Handbag" contest.
This was my inspiration: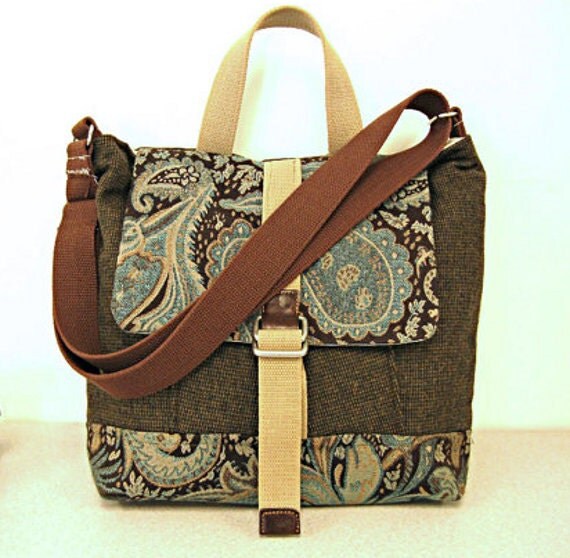 I used this pattern. It's a free PDF download.
I wanted a zippered pocket on the back like this:
I started with the free Kennedy bag pattern from Sew Sweetness. This is a great pattern. It prints out good and the instructions are very through. Her bag's finished size is 11 x 14 with a 5 inch bottom. That was little bigger than I wanted plus I wanted mine to be more of a square shape, so I made mine 10.5 x 12.5 with a 4.5 inch bottom. Even though I like a fairly large handbag, this is still a little bigger than I like.
I used 7 different upholstery samples. These came from a local fabric store and were given to me by my niece that works there. When they replace them and toss the old ones, she passes some of them on to me.
For the lining, I used a medium weight brown cotton piece that was left over from another project.
I added feet to the bottom; used split rings for the zipper pulls; and a magnetic snap for the closure.
I added a large outside zippered pocket on the back
Underneath the flap, I added a 5 x 8 inch lined pocket that I use for my cell phone
There's also an inside zippered pocket.
Feet on the bottom
Side panel